NEW YORK – March 20, 2023 – IntelligentCross®, a leading US equities ATS, and the Data Science team at Pico, a leading provider of technology services for the financial markets, today released a report that analyzes the venue's displayed trading performance against several objective metrics. The report examines the quality of trade execution, price discovery and market impact for displayed orders submitted to the ASPEN book at IntelligentCross by its subscribers.
Among the key findings of the report are the following:
For ASPEN displayed orders in S&P 500 stocks: Analysis shows that displayed bids and offers were available on average over 96% of the time. Quotations were available strictly inside the NBB/NBO more than 12% of the time, with an average improvement of over 2.5 basis points.
S&P 500 Stocks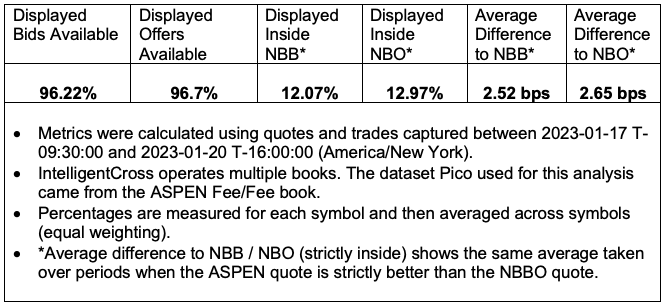 For ASPEN displayed orders in Russell 3000 stocks and top 100 ETFs: Displayed bids and offers were available over 95% of the time. Bids and offers strictly inside the NBB/NBO were available over 9% of the time, with an average improvement of over 10 basis points.
Russell 3000 Stocks and Top 100 ETFs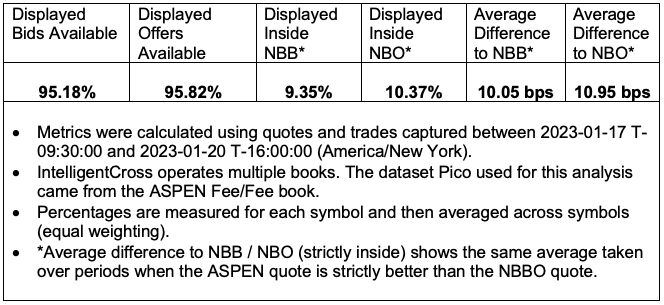 Roman Ginis, Founder & CEO of Imperative Execution, said: "We welcome the examination of our trading data, and getting a report card on whether we are achieving our mission of optimizing trading performance for our subscribers in our ASPEN book. We're pleased to see that the goals we have for improving execution quality are being demonstrated in these measurable ways. The percentage of time that our displayed quotations are beating the NBB/NBO is particularly meaningful. It shows that our participants are frequently getting better price discovery and can pick up valuable price improvement when taking liquidity."
Seetharam Gorre, Pico's Chief Information Officer said: "Pico's testing capabilities are extremely diverse, and clients like IntelligentCross often request our help to test market quality and trading analytics, execution quality, trading technology, high-performance software and even hardware. We provide clients with the ability to test products and solutions, and reports like this show how Pico can help clients capture and analyze data and seamlessly provide information and support for real-world executions."
Quality, completeness, and timeliness of market data impact both strategy decisions (what to trade) and order execution decisions (where to trade). Pico's analysis of IntelligentCross ASPEN orders demonstrated that they display prices superior to the NBBO more than ten percent of the time for S&P 500 stocks, and the post-trade data at various time increments shows lower market impact versus the market overall. These results translate to lower net costs of trading for those orders, and better price discovery for stocks in the S&P 500, Russell 3000 and the top 100 ETFs.
The IntelligentCross ASPEN displayed market data feed (IQX) is available free of charge. Pending SEC approval, IntelligentCross Aspen Fee/Fee displayed quotations would be available on the public quote via FINRA's Alternative Display Facility, or "ADF," as protected quotes, enabling them to contribute to the NBBO and making these quotations accessible to investors across the broader marketplace.
About Imperative Execution and IntelligentCross
Imperative Execution Inc. is the parent company of IntelligentCross®, a leading US equities ATS that applies AI to optimize price discovery. It is the only ATS with displayed liquidity and its unique matching logic enables quotes that improve the NBBO over 10 million times per day (for week ending 3/17/2023). Tighter quotes improve execution performance and make the overall market more efficient.
About Pico
Pico is a leading provider of technology services for the financial markets community. Pico provides a best-in-class portfolio of innovative, transparent, low-latency markets solutions coupled with an agile and expert service delivery model. Instant access to financial markets is provided via PicoNet™, a globally comprehensive network platform instrumented natively with Corvil analytics and telemetry. Clients choose Pico when they want the freedom to move fast and create an operational edge in the fast-paced world of financial markets.
Media Contact
Pico Press Office:
[email protected]