Corvil's Timely Solution to CAT NMS Plan Clock-Sync Compliance
Last month the second phase of CAT (Consolidated Audit Trail) NMS kicked in, which means large US broker-dealers must begin reporting time-synchronized equities transaction records in Nov 2019.
The regulator wants to create a repository for every trade to increase transparency and improve surveillance and enable event reconstruction. Some firms are more prepared than others, particularly those that have already improved their clock synchronization and timestamp capabilities to align with MiFID II requirements. CAT will be more of a challenge for broker-dealers who are less familiar with the complexities of high-precision timestamping and synchronization validation for compliance purposes.
Self-monitoring risks
With so many clock synchronization products available, there may be a temptation to go the self-monitoring route, i.e., depending on the product to monitor itself. Brokers need be aware that this can go horribly wrong.
As our global customers rolled out clock sync technologies for MiFID II RTS-25 compliance, Corvil's independent monitoring helped them validate accuracy and troubleshoot the various causes of jitter and other deployment issues. One lesson learned was that spot-checking clock sync status a few times a day does not provide the oversight needed to properly de-risk the business. For example, if a clock drifts out of sync between the spot checks, trades happening at the time may be timestamped out of sync with what is happening with the rest of the market and auditors (or regulators) might come calling.
Remember that in an effort to improve transparency, the regulator is using CAT to collect data from all parties and reconstructing markets in the sequence that orders and trades occurred. So, if a broker reports transactions with clock sync errors, the outcome might look suspicious when seen in the context of what other parties are doing. An out-of-sync timestamp might suggest inappropriate activity that never actually happened. After all, sequence defines causality - that is, something that happened after something else, could not have caused it.
Corvil mitigates this risk by providing independent and continuous visibility into clock synchronization with NIST (UTC) traceability. Automated and on-demand reports on synchronization status directly address any concerns raised by the regulator. Corvil's integrated transaction monitoring and order lifecycle recording also simplify proactive oversight for compliance teams.
Automatic synchronization and transaction tracking
Another lesson learned was that compliance teams need reporting capabilities that connect clock sync monitoring with the orders and transactions that occur. This is something that Corvil makes light work of, by integrating order record capture with automated synchronization status tracking.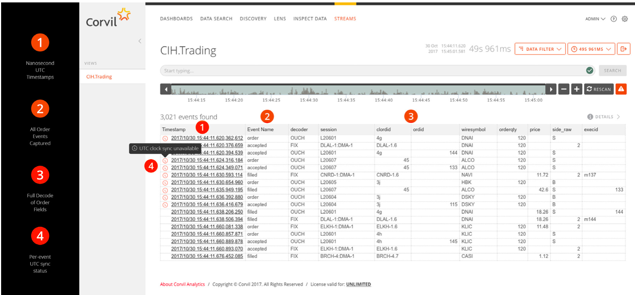 Trading events are automatically captured along with the associated clock synchronization status (see screenshot). Complete information about impacted trading events is available on demand, improving the productivity of the compliance team. Better still, this oversight is implemented without the need for extensive data integration projects, system log consolidation or manual correlation.
Award-winning solution
Our machine-time analytics platform is already widely used and trusted by the largest trading venues and market participants. For example, one customer accelerated their compliance project timeline by three months by replacing manual processes dependent on bespoke system logging for UTC traceability with Corvil.
This is just one example of why our industry recognition includes RegTech 2018 "Best Time Synchronisation Solution" and "Best Time-Stamping/Latency Measurement System" at the 2018 Intelligent Trading Technology Awards and why Corvil is included in the 2019 RegTech 100 List of the World's Most Innovative Technologies.
The good news for traders seeking CAT compliance is that the Corvil solution is cost-effective, because we gather reportable event data non-intrusively, minimizing the need to retrofit trading systems to meet regulatory demands. Deployed as an overlay on existing infrastructure, there is no need to reconfigure systems or opt in to flows. Clock-synchronized transactional data is streamed reliably from Corvil appliances to databases and big data platforms (e.g., Amazon Kinesis, kDB, Hadoop, etc.) as well as third-party providers in real-time. So not only do you lower the regulatory tail-risk of non-compliance, you do it in a way that reduces cost and complexity.
Learn more about proving clock synchronization for CAT compliance