Sell-Side Broker-Dealers Risk Buy-Side Churn
Recent research by Greenwich Associates reveals that the loyalty advantage held by bulge-bracket investment banks is eroding because their buy-side clients are using increasingly sophisticated criteria to judge their brokers' performance. They are analyzing execution data to inform order placement and reallocating flows if they see they can get better execution somewhere else.
Service-driven relationships that have been the basis of bulge-bracket business are breaking down. One consequence is a rise in churn, opening the door for non-bulge-bracket brokers to win business, according to Greenwich, with many of them outperforming their bigger rivals because they too are presumably using more sophisticated analytics.
A new instability in sell-side pecking order
The new report – 'Customer Retention in the Age of Electronic Trading' – shows that apparent stability in the sector leaderships belies substantial instability at the level of individual broker-client relationships. The report shows the median allocation to any given broker-dealer changes by more than a third year over year. The real concern, however, is this accelerating reallocation is happening.
According to Ken Monahan, Senior. Analyst at Greenwich. "What is perhaps the most significant finding of this analysis, is that the stability advantage enjoyed by the bulge-bracket firms has almost evaporated in just four years," he warned.
Greenwich's analysis paints a picture of bulge-bracket banks enjoying 'stickier' relationships with their customers back in 2014. The report notes that "the distribution of reallocations among the bulge bracket is both significantly lower as well as much more stable" than smaller firms. That's all changed as buy-side clients expand their non-regulatory use of Transaction Cost Analysis (TCA) tools for purposes such as venue analysis and alpha profiling to evaluate their broker-dealers.
Measure for measure
Under threat of churn, both bulge and non-bulge firms are likely under pressure to fight fire with fire using analytics consistent with buy-side execution quality factors of greatest impact on profitability. The evidence suggests that if they are not measuring the same things as their clients, they are in trouble.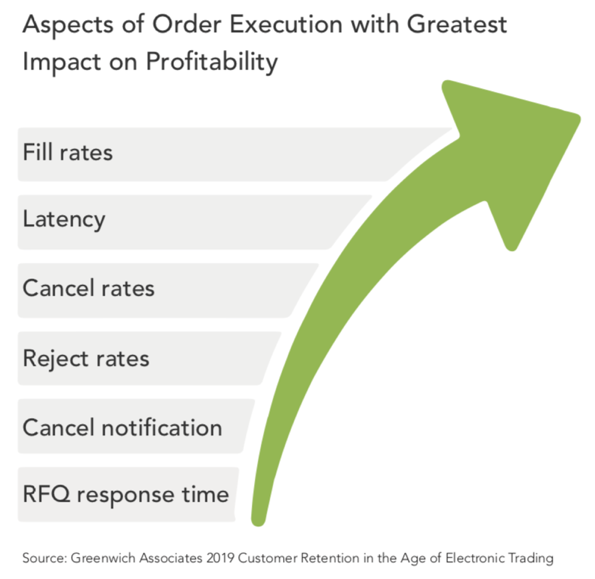 The risk of churn may be the wake up call that businesses need to leverage their trade plant instrumentation and order execution analysis in new ways. Firms might already be pulling data from disparate systems to measure venue fill rates, but they don't have live correlation with performance data across the order lifecycle. Corvil's execution analytics does, so that firms can know what's happening before their clients do.
For example, by providing insight into client behavior at a time when loyalty is no longer guaranteed, Corvil can help firms to reclaim lost ground. We facilitate the faster identification and resolution of fluctuations in client execution outcomes by instrument, venue and order type. Using multi-dimensional analysis to understand links between seemingly unconnected metrics, correlating hop-by-hop latency with order cancellations, for example, can provide insights that could explain when and why execution performance, and customer experience degrades or can be improved.
Machine learning can identify patterns and spot warning signs so that you know what is happening, and can act on it, sooner. Having the ability to respond quickly could change the outcomes in intraday trading and create opportunities for firms, not just to achieve parity with their client's capabilities, but to move ahead and bring some 'stickiness' back to their relationships.